Search Engine Optimisation (SEO) is what this is all about. The purpose of SEO is to grow your business. It does this by driving organic traffic to your website through improving your search engine visibility over time. The goal is to get you to the first page of Google and even to position one in search engine results where possible.
Businesses and organisations in Sydney who need an SEO company in Sydney to help them grow their business through digital marketing would talk to us, App Factory Store, a digital marketing company and SEO agency providing online marketing and SEO services to Sydney and the rest of Australia.
You probably found this page on Google right? This proves our SEO works!
If You Searched "SEO Company Sydney," You've Found Us!
SEO and digital marketing companies often speak of huge potential profits and overpromise unrealistic rankings. At App Factory Store, our approach was always different from the start: just like farming, SEO results come mainly from the hours put into it – so our local SEO plans in Sydney (and throughout Australia) are all about the hours we put in.
SEO doesn't usually bring instant results like online advertising can. Even though many of our Sydney-based customers see a boost in their incoming business from the start, that's not always the case. Rather, local SEO is a slow-burning activity that starts small and delivers better and better results the longer it runs for.
Our Effective Local SEO Sydney Plans and Strategies
At App Factory Store, our SEO Sydney strategy has become essential when attempting to succeed online, as it contains, we think, all the ingredients needed for online success. We have a team of SEO experts ready to assist your Sydney business or organisation with the design of your SEO campaign.
This will optimise your website's visibility and bring you more visitors to your website through custom SEO techniques. We offer these SEO services in Sydney and throughout Australia. Keep reading to see what we can do to grow your business, or take a look at features and pricing of our SEO plans. Or if you are ready to proceed you can sign up for SEO now.
Our SEO Sydney Plans Available in Sydney and Australia-Wide
We believe that budget should not hold your business back from growing by means of SEO. For that reason, our plans begin with an entry-level Basic SEO Package. This brings results slower than other SEO packages, but will get your website in good shape for SEO, and will provide for enough hours of SEO each month for your business to benefit. See plans and pricing here.
For businesses in Sydney (or anywhere) that want to go faster by getting more of the power of SEO we have our Standard SEO Package. The leading SEO services provided in this SEO package are powerful because it strikes an optimal balance between price and results, being affordable, while still bringing great outcomes for Search Engine Optimisation of your website. This SEO package provides an SEO strategy to help cement your outcomes. See plans and pricing here.
For a business that want their SEO campaign to bring results as fast as possible, we have our Premium SEO Package. This SEO package maximises the hours we put into your SEO service every month, and includes some content creation extras that are proven to help business growth, such as articles, videos, and more. If you are a Sydney business wanting to grow your business with the fastest pathway to sustained organic traffic to your website, then the Premium SEO Package is the ideal local SEO option for you. The Premium package is also scalable – read more about our Enterprise SEO below. See plans and pricing here.
What Does a Top SEO Agency in Sydney Do?
There is so much to the SEO we do, but here we will try to break it down to give you an idea of all the pieces and how they fit together.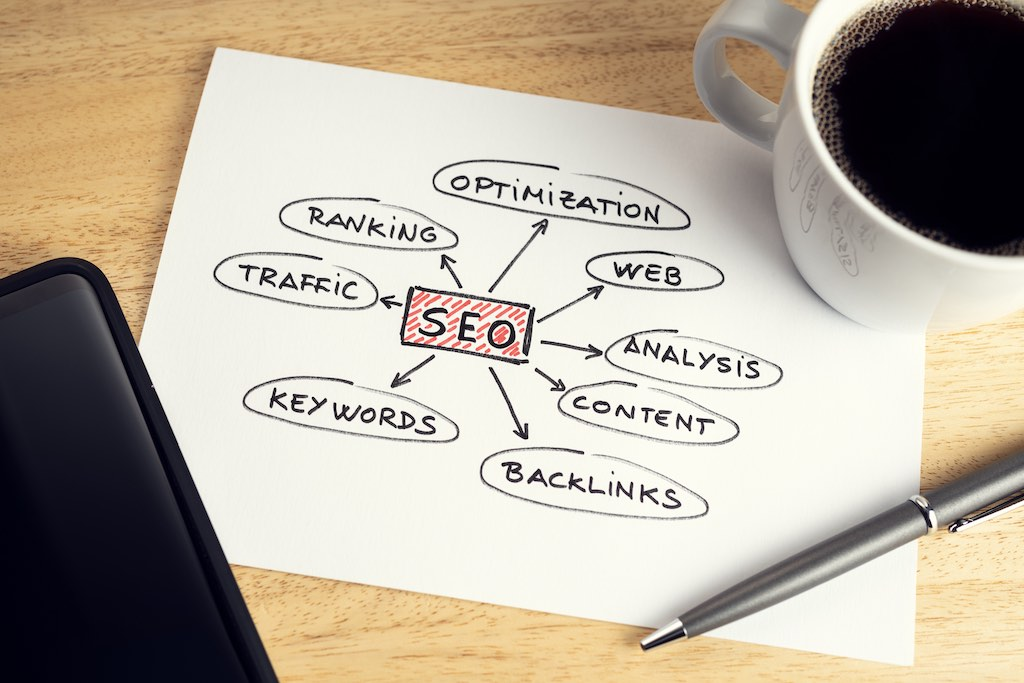 As SEO specialists, our leading SEO strategy is split to cover two main types of Search Engine Optimisation (SEO).
At the start, we do what we call on-page SEO, which are initial activities focused on helping you choose keyphrases (keywords and keyword research), identifying where your business exists in search results relative to your competitors, defining your content strategy, and getting your website into shape for search engines.
Then on an ongoing basis we do off-page SEO, which are the hours put in each month to get your website ranking better and better in Google search, according to your choice of keywords and search terms.
All our SEO packages include (in varying quantities) the following on-page initial activities:
Keyphrase Analysis & Research (keyword research)

Website Analysis

Competitor Analysis

Optimisation of Meta Tags

Internal Link Structure Optimisation

Image Optimisation

Optimisation of H1/H2 Header Tags

Check Broken Links

Google Webmaster Tool

Google Analytics

Sitemap, Robots and Feeds

XML Sitemap Creation

XML Sitemap Submission

Robots.txt Optimisation
Our SEO-related packages cover a wide range of the best of SEO services in Sydney, including some or all of the following monthly off-page SEO activities and services:
Email and Phone Support

Monthly Ranking Reports

Google Analytics Report (Statistics)

Monthly Work Reports

Manual Search Engine Submission

Local Directory Submission

Classified Ad Posting

Social Bookmarking Submission

Article Writing

Article Submission

WordPress.com Blog Creation

Blog Posting

Product / Business Listing

Guest Blogging / Article Marketing

PR Writing

PR Distribution/Submission

Image Promotion

Google Local Business Listing

Video Submission
In some cases we will also provide an SEO audit for our internal use. This helps us to better understand your website so that we can provide the industry leading SEO Sydney services that we are known for. It also helps us clarify your ideal search engine search terms as a starting point for SEO services.
Do You Hate Lock-in Contracts? So Do We.
As an SEO company among dozens of competing SEO agencies, we are among the few leading SEO experts at our level that don't force you to sign up to lock-in contracts. We believe that the success stories from our winning SEO practices should speak for themselves, and if we can't help your business online with effective SEO then you should be able to cancel with no ill will on any side. Therefore none of our trusted SEO services in Sydney (or anywhere) have lock-in contracts. With App Factory Store you can cancel any time with just one full calendar month's notice.
Enterprise SEO Sydney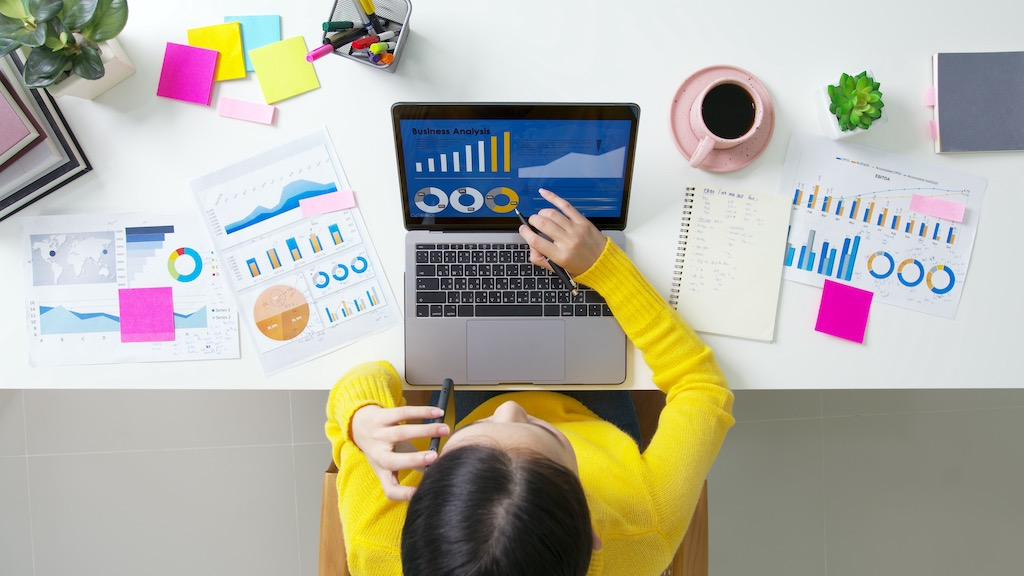 Search Engine Optimisation remains one of the main strategies in our digital marketing toolbox for Enterprises and large organisations in Sydney and throughout Australia. Our Premium SEO package can be scaled according to your budget, making it possible to greatly accelerate your business growth.
Typically, when an enterprise based in Sydney engages SEO consultants or any SEO agency in Sydney, they are offered fairly static SEO strategies. However, with App Factory Store our approach to SEO is different, and allows for a more dynamic SEO strategy. By increasing the number of SEO Premium packages your business is subscribed to, the monthly hours are combined into a pool allowing our SEO experts to carry out more complex and long-running "white hat" SEO services, to produce an outcome that is significantly greater than the sum of the hours of each individual SEO Premium package subscription.
Our Premium SEO package (which is what we recommend for enterprise SEO) also includes detailed monthly reporting, and can be provided as raw data if desired, which your team can work on directly, or which can be integrated into your ERP system.
What Do Our Customers Say About Our SEO?
A yoga studio: It's exciting to see our keywords go from nowhere to the first page and up to #1. It makes a difference to our bottom line! Thanks for Geoff and his team at App Factory Store for the awesome work.
---
A gallery: It was amazing. For our exhibitions, they got the artist's profile page on our site to rank number 1 in Google. Some of our artist profiles ranked better than the artists' own websites!
Are There SEO Strategies You Can Do Yourself?
Absolutely! Local SEO Sydney activities that you, a non-developer, can do are plentiful. They mostly revolve around content creation.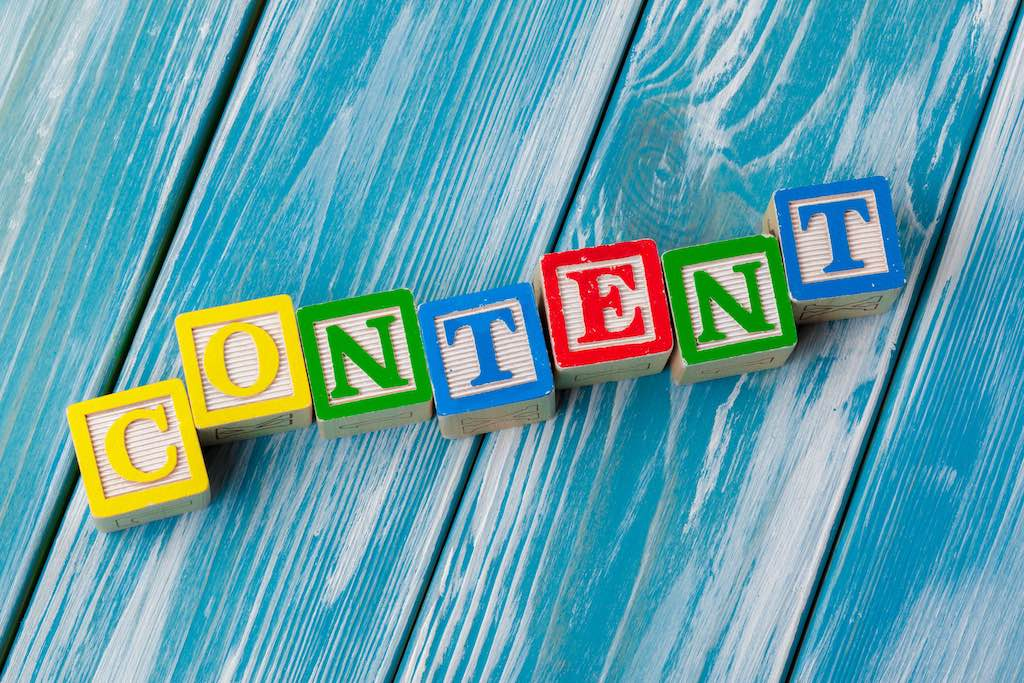 You don't need a content marketing strategy as such, but it is important to understand that each piece of content that you write (especially local SEO content) will boost the effects of whatever SEO services we are doing for you.
For best results on Google, optimised for SEO Sydney (or any location), there should be a regular flow of content, of which each provides Google with greater context and understanding of what your business is about, and why Google should care about your SEO activities. This is known as "domain authority" and the more that Google perceives you have it, the more Google will value your site and SEO activities, which means better ranking positions in Google search results, more impressions, and more visitors to your site.
SEO Sydney activities are essential, but the more targeted content you author, the better your SEO outcomes will be. Our SEO Sydney (or anywhere) activities are a 3-way partnership: there's us doing SEO Sydney optimisation; there's Google indexing your site and listing it in search engine results; and there's you –perhaps the most important– providing the content that makes the whole beautiful circle go round.
What If You Don't Have Time To Write Any Content?
So you need SEO Sydney (or wherever you are) and you need to rank well on Google, but you don't have time time to write any content at all. No problem!
See the section below under Copy Writing & Content Creation to see how we can take care of that completely for you. All your SEO Sydney activities, your outcomes on Google, and all your content can be taken care of by us, and completely hands-off for you, if you want it.
Do You Need A Marketing Manager For Effective SEO?
With us, no marketing manager is needed for SEO success! Our proven SEO services in Sydney (or anywhere) are all geared for non-technical people who are not necessarily marketing professionals.
We can certainly engage with a marketing manager at their level, if you have one, but it isn't required, and all our reports and metrics are easy to understand. It is SEO Sydney (or anywhere) for real people!
We also have dedicated team members who can work with you to cover any material that you might have difficulty with. Get your Google success without having to hire anyone.
Account Manager For SEO Services? Who Can You Call If There Are Problems?
All our Standard package or higher Sydney SEO customers (and the rest of Australia) have an account manager assigned to you who is your liaison with App Factory Store.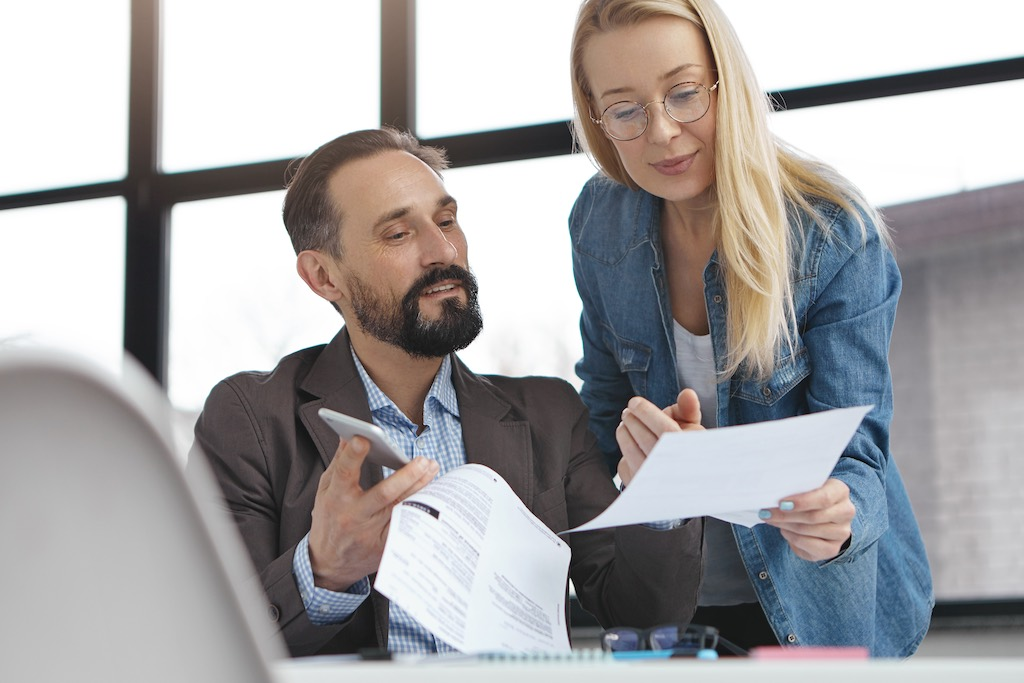 This person is available to you if you have any questions about your SEO (on page SEO or off page SEO), Google / search engine advice, or anything to do with your website.
This is also the person to talk to if your business needs any additional services besides SEO & Google, such as updating a web page, refreshing your site, or even building a whole new site for your business or a new business.
Yes, we're an SEO agency doing Sydney SEO, and yes, we know Google inside out, but we also have a vast background in technology that goes far beyond SEO and search engines.
We have account managers that are resident in Sydney, and just a phone call away. We provide these services in other cities and also regional areas.
For most people in business, having someone to turn to on demand for any technical matter, or even just for technical strategy advice, is an exceptional business tool. So our Sydney SEO is for sure a big part of what we do, but it goes so far beyond that, and your account manager is the key to unlocking those benefits for your business.
Also, if any time your liaison person is unsure how to help your business or answer your questions, they have a whole team behind them to draw on, with decades of experience in all aspects of the technology business. Obviously they can help guide and advise in matters related to SEO, search engines, Google issues, a problem with a web page, and so on, but beyond the issues an SEO agency would see, we are really skilled at technical strategy and also innovating solutions for solving problems. Many see us doing Sydney SEO and assume we are just "SEO agency Sydney" and while that is partly true (the "SEO agency Sydney" part doing Sydney SEO) there's much more to the story.
In our business, we value solutions and customer satisfaction. We enjoy solving technology problems your business may be facing. It's no accident that even our CEO's job title is "Technology Solutions Architect".
Does Our Sydney SEO Play Nice With Google Ads?
If SEO is like farming, Google Ads is like hunting.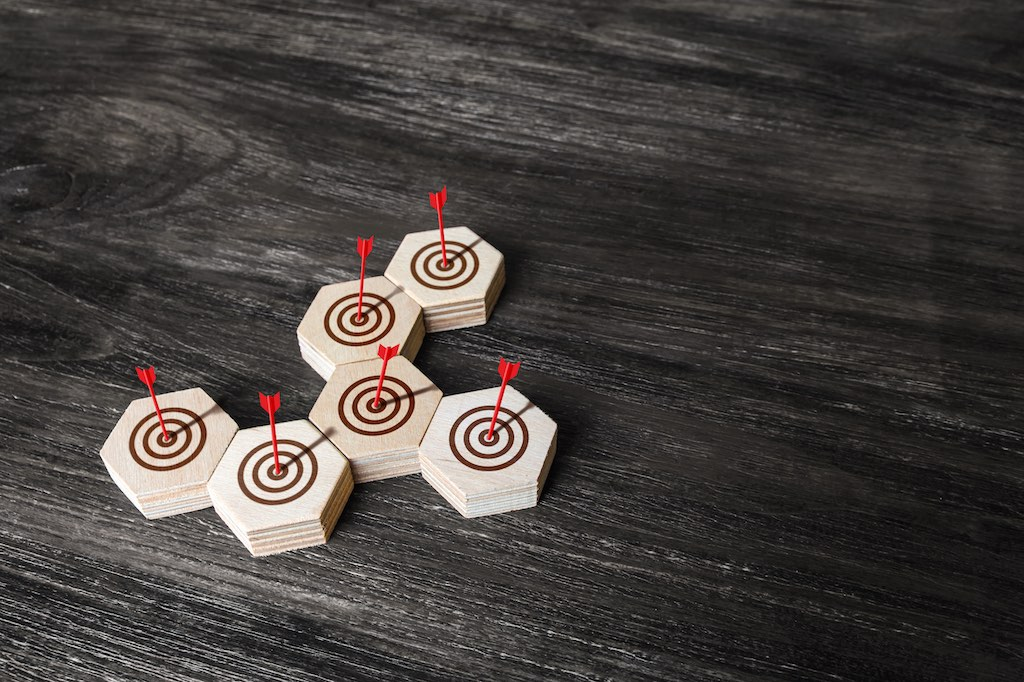 Google Ads is a great way to bring in business fast, and our PPC (Pay-Per-Click) Google Ads products or services integrate well (in digital marketing terms) with our SEO packages.
You might be thinking a SEO agency Sydney is more focused on organic SEO, but paid ads have their place as well, and can really help a business, whether it is just starting with SEO, or already well advanced with each web page and landing page well optimised for search engines.
As marketing strategies go, combining SEO & PPC is a great way to speed up your business growth, and some businesses who have been struggling to reach the first page of google have found it easier when combined with one of our Google Ads SEO PPC campaigns. We call it SEO PPC because the Google Ads PPC campaign produces enhanced SEO results and better search results than just doing SEO and PPC separately.
If it's quick SEO results you want (in terms of getting to the first page of Google search results faster), we recommend SEO PPC by running our Premium SEO service together with a Google Ads PPC campaign on our Enterprise PPC package. This not only enhances your technical SEO results, but also provides the best SEO outcome. In this context, "technical SEO" refers to position in Google search results (and other search engines), and "best SEO outcome" refers to actual business growth due to the increase in organic traffic to your website. In other words, a paid ads campaign can actually enhance organic traffic.
We can also build a dedicated landing page for each PPC campaign, with the option to add our powerful SiteRunner Insights product to the page, so that your business can track exactly what customers do when they reach your page. Read more about SiteRunner Insights below… it is a powerful business tool that can really help your SEO and PPC campaigns by tracking the visitor journey from search engines to conversion.
Not Just An SEO Agency Sydney… Any Other Digital Marketing?
Yes! In addition to our SEO products or services mentioned above, and Google Ads PPC, we have a lot more to offer your website and your business. Here are a few of our digital marketing services, aside from SEO and PPC:
Social Media Services
We have a range of social media services, including social media marketing (SMM), social media optimisation, and social media management. These services are great for link building.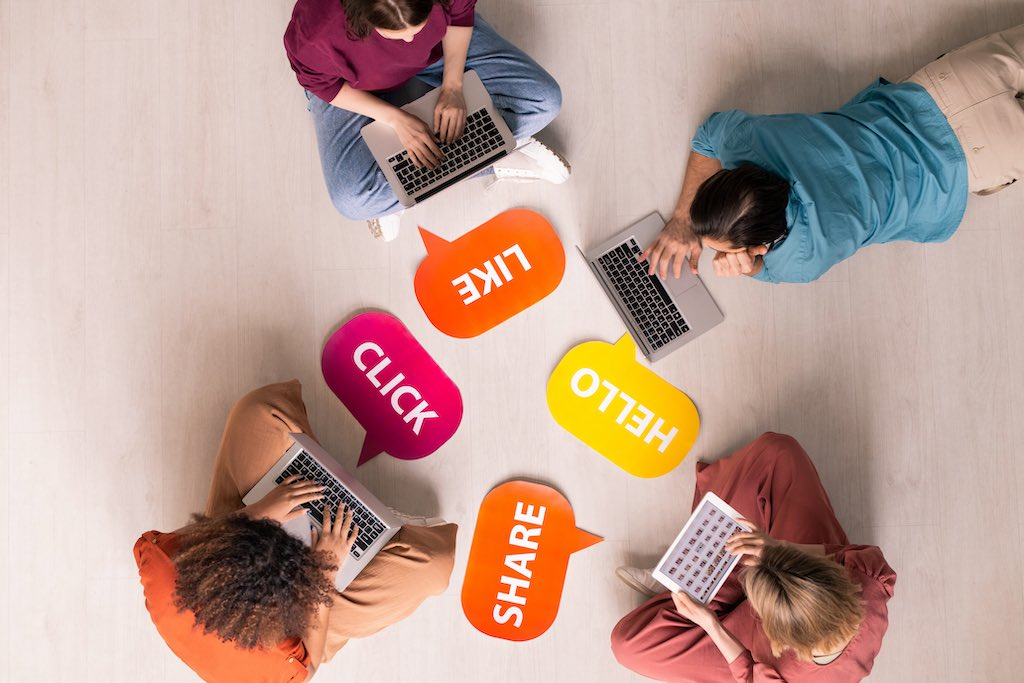 As you probably know, traditional link building is not what it used to be, and some companies are even penalised (in search engines, in terms of their position in search engine results) for doing paid link building, or using a "black hat" (dodgy practice) SEO strategy to get link building results.
But SMM is an accepted and effective path to link building, which means it works extremely well when combined with an SEO campaign. Not only does Google consider it to be "white hat" SEO (accepted and recommended SEO best practice), but as SEO experts, we know how best to leverage your social content marketing to tie it to an SEO strategy to get the business growth your business needs.
SiteRunner Website Insights & Analysis
There's more to business growth than just search terms, content marketing, and website visitors through Google. Even award winning SEO will not bring in more business in Sydney or anywhere, if your website or landing page is not converting all that Google traffic to your website into sales or signups.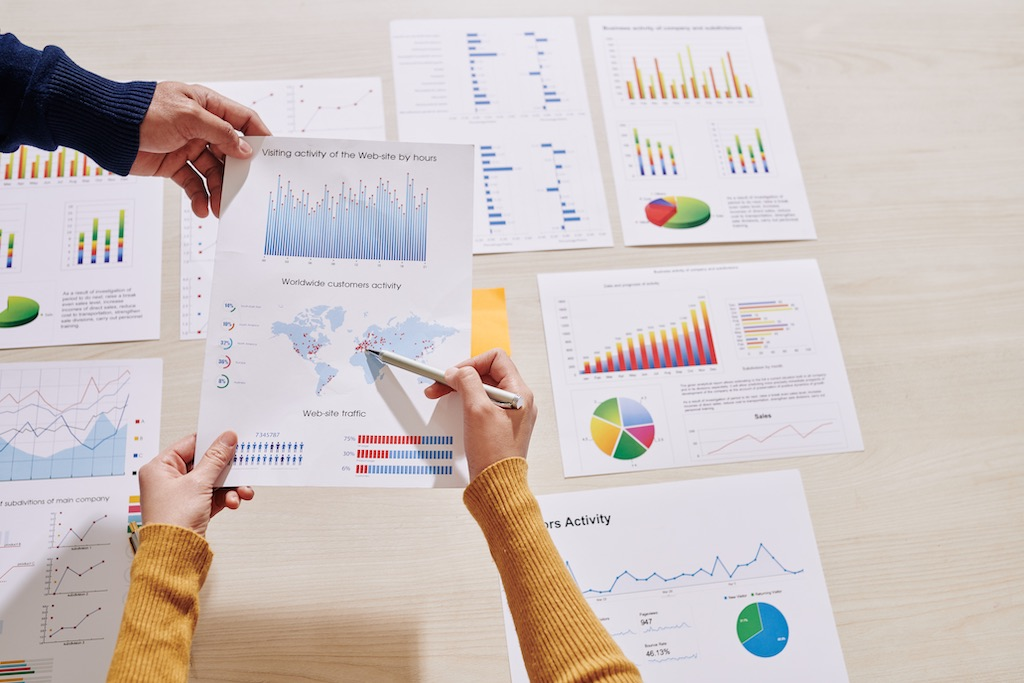 Better analytics lead to increased sales
For a website to really help your business through SEO services and related products or services, your website must be compelling, with calls to action (CTAs) used frequently, together with effective internal linking and a powerful "sales funnel" that helps visitors become comfortable enough with your website (in the few seconds that you have their eyes) to become customers.
This might seem like an impossible task for your business to achieve, regardless of SEO strategy, but with our SiteRunner Insights and Analysis tools, it becomes possible to know how your customers are interacting with your business through your website.
These tools will tell you exactly what visitors do on your website: what they look at on a webpage, where on a page they clicked, how far they scrolled down the page, and more, all broken down by device type (desktop, mobile, or tablet), location, and search phrase!
We use interactive clickmaps, heatmaps, scrollmaps, and confetti maps to bring you these insights. We also track the actual searches provided by the search engines as they send traffic to your website.
Optional extras let you record and playback actual user navigation sessions (see where a real visitor's mouse goes), and you can set up A/B tests to see which page variations produce better conversions.
Actionable analysis and insights are indispensable for knowing what works on your site and what doesn't. However, these are traditionally very hard to get right. SiteRunner Insights makes it easy. And with all that behavioural info, we can refine your SEO strategy (including technical SEO), and advise content changes to unlock the flow of business.
No more guesswork… with these tools, your website's online marketing strategies can be based on what has actually been found to work!
Email Marketing
It is said that email marketing remains one of the longtime business marketing favourites, and it's for a good reason: it has one of the best returns on investment out of any digital marketing products or services.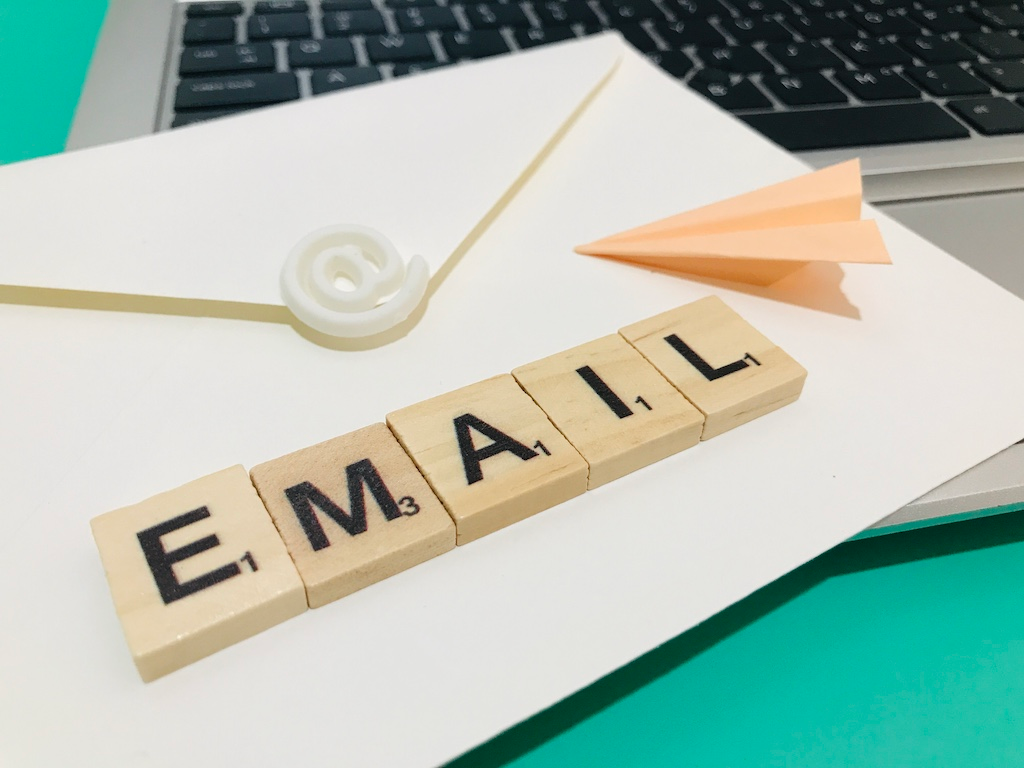 Our custom platform can help you to easily grow your mailing lists, increase conversions, and optimise your audience engagement with beautiful emails and autoresponders, high-converting web forms, list segmentation, and unique delivery tools. All with the goal to help your business by generating traffic to your website.
Of course, email marketing works beautifully when combined with SEO and a content marketing SEO strategy: first content creation, then publish those articles to your website (share them socially too), then send out emails periodically (maybe once a month) describing the new content. And of course the SEO brings the visitors, to the website, where there are calls-to-action to join the mailing list. It's one of the more highly effective digital marketing strategies, and is proven to bring more business engagement and website traffic.
Copy Writing & Content Creation
Writing is both a skill and a talent. We take it to the next level by producing easily consumable content that also has powerful SEO value and ties in with your SEO campaign and other digital marketing activities.
Content underpins all aspects of digital marketing, and is a critical part of SEO strategy. Even an award winning SEO campaign would be nothing without content.
Members of our team of SEO specialists are also involved in content that we produce, to ensure that the content is unique, is making use of proven SEO techniques, and fits in with your business SEO strategies.
Google loves our content, not only because it is unique content not found anywhere else on the web, or that it uses proven SEO as sanctioned by Google, but also because our content is geared to "teach" Google (or any search engine) about your website, your business, and why Google should rank it highly for the keywords you are targeting.
And keyword research is another way that content creation contributes to award winning SEO strategy outcomes: you can just ask us to produce regular SEO-friendly articles relating to your business and digital marketing goals, and we will create that content as a draft as required, which you can then edit, update, and approve to be published on your website.
We have a very quick turnaround, and can produce (say) 1,000 word articles for your approval in a matter of days. Content writing is priced at a base price plus cost per 100 words, making it affordable because you only pay for what you need. Any SEO agency in Sydney will tell you that content is essential for just about any kind of digital marketing your business or website needs.
Graphic Design and Digital Marketing
From a simple logo to a glossy brochure, we can turn your ideas into visual reality. Our designers are among the best in their field, with a proven track record. We not only consider the visual requirements for your job, but also how the artwork will be used on a page (whether a web page or printed page), how it will relate to your business, and how your website will interact with it.
Our designs are also SEO-friendly, in that we can produce "ALT" text to help Google search engine algorithms better understand the image. This helps immensely with your SEO, and indeed a typical SEO audit will often flag a problem if a page contains images without ALT tags. This is also one of the on-page SEO activities that we do (on-page SEO is part of our SEO services) because it is so important to a search engine.
We also have access to one of the largest collections in the world of stock photos, graphic images, icons, and even full-motion videos.
Trust us, having an SEO company in Sydney produce or locate your visual elements, is going to integrate your material more closely with with your SEO campaign, giving both your SEO campaign and your visual marketing a boost. Ultimately this helps your website and your business.
Website Design And Development
We can build your bespoke new website from the ground up, or refresh your existing site, or just do minor tweaks from time to time. In terms of website development, and especially WordPress websites, we do it all.
There is no better partner for your website development work than a SEO agency, because we already know what proven SEO techniques work, and we keep that in mind as we build.
We can also build your website if your business is on a tight budget, by making use of an existing professionally-designed website theme. This can save a lot of money and time, as theme design and development can often be the most costly part of a website build, sometimes even more than content. We have access to a massive library of nearly 10,000 professionally designed WordPress website themes, and usually provide the theme free with a website build.
SEO agencies are often the best partners for website development, because our themes are SEO-friendly, search engine friendly, and have a wide range of features geared to enhance SEO.
Web Hosting, Management, Security, Backups, And More
SEO service is something we've done for a long time, but we've been hosting websites since before any search engine (including Google) existed and before SEO was even a concept.
We know all about keeping your site safe and secure and running. Our SiteRunner WebSafe tools are a curated selection of premium WordPress plugins designed for exceptional security and reliability, but also have the added side-effect of drastically reducing the time it takes to do all the routine work in managing a WordPress website. Some customers (including SEO Sydney ones) have reported a time saving of several hours per week. This allows us to offer WordPress management services for a very competitive price.
Our web hosting is fast (great for SEO) with several options for caching and content delivery (also great for SEO). All this is done while keeping your website secure and easy to manage.
Web App And Mobile App Development
At App Factory Store, we don't just build apps – we create intuitive systems that are as beautiful as they are powerful. But wait you say… what's a SEO agency in Sydney doing with mobile apps? True, we are an SEO agency, and yes, we do SEO Sydney, but the fact is we've always been a software business, and our particular focus on the web (including knowing how Google and other search engines work) is what has enabled us to excel at SEO.
You've seen above how unique our approach is to SEO services, so you can probably guess that the way we approach app development as a business is also unique. And you'd be right. Our app development services follow a few business rules and basic principles that make us quite different from our competitors:
For a start, we always assume that the apps we are building will be immensely popular and successful, and we build our web/app back-ends to handle infinite scale. We use serverless technologies to enable this, and we architect solutions that have no single point of failure. (Incidentally, this applies to us as an SEO agency doing SEO Sydney as well – as our team is distributed with knowledge-sharing at a level not normally provided by a typical SEO agency in Sydney).

We also don't believe that our apps should need an army of techs to look after them. In this day and age, we are fortunate that we can leverage state of the art tools for infrastructure orchestration, provisioning, scaling, deployment, and management. Aside from the SEO agency side of our business, our team is mostly made up of developers and technology architects. (These skills help our SEO work as well – we even built a search engine! More than once!)

With a strong specialisation in online security, we believe that security should always be architected into a system from the ground up, not bolted on later. For any business in Sydney or anywhere, security is not just important, it must be designed into the core of the system.
As a consequence of the above, we make powerful yet simple mobile apps. Secure and stable, our app back-ends use serverless technologies to keep them scalable and highly available. They are also self-managing and self-healing, saving you a fortune in staff costs. Oh, and the visitor front-ends of our web apps are SEO friendly also! You know us by now and would not expect anything less.
Cloud Infrastructure & Devops
Many businesses, particularly in Sydney, have seen the benefits of embracing the cloud in their technology.
As AWS practitioners of many years, we can design your cloud architecture, or migrate existing projects to the cloud, usually with significant cost savings.
Specialising in scalable and highly-available serverless cloud architectures, our resilient and secure solutions will future-proof your project. As you can imagine, as an SEO agency doing SEO Sydney, we utilise the cloud in our SEO as well. All the SEO tools we use, whether from external providers or SEO tools we've built ourselves, run in the cloud.
We also have a strong background in architecting, provisioning, and managing cloud infrastructure, using modern Devops and DevSecOps techniques.
---
Geoff Ellison is Lead Solutions Architect and CEO at App Factory Store. He has been designing and executing innovative technology solutions for 30 years. Geoff lives in paradise (Pottsville Beach, NSW) with his wife and two children. He also plays guitar (in theory), and tells appalling dad jokes.
Geoff is always open for work and new projects, particularly in web/app development, cloud Devops, security & encryption, and consulting. Get in touch.
All author posts